August 21st, 2005 7:53 PM
All the Wheaton crew was back together this weekend, meeting in Freedom, Maine for Greg and Laura's wedding. It was great to see everyone again, especially those that I don't get to see very often (Greg and Laura, Tony, Dan Wilson, and Erik among them).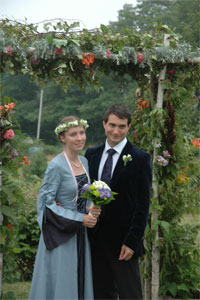 The wedding was great, despite some pretty damp and cold weather. The rain held off for the ceremony, though, and the reception was under a large tent nicely erected atop several birch trees. Later on in the evening a great bonfire warmed everyone up.
My photos are now online, and hopefully others' photos will make it online is some fashion as well.