September 20th, 2004 12:01 AM
I've begun the long, arduous process of sorting, selecting, annotating, and publishing the roadtrip and Ireland photos.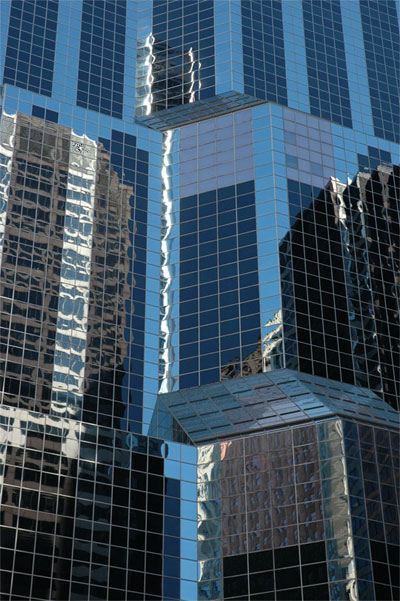 Reflected Buildings
The plan at this point is to annotate everything, but to whittle the set down to two subsets of under four gigabytes (one for the roadtrip, one for Ireland), and publish the subsets as DVDs which I can send to the people I've promised photos to.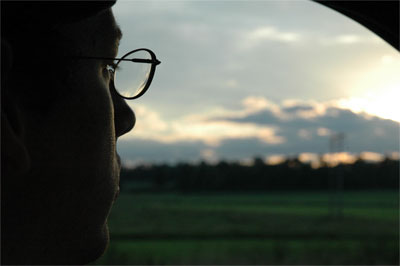 Greg at Sunset
I plan on using the annotations to pre-generate a faceted interface to the photos, just as I do on my online photo albums. This way, you'll be able to browse by:
Geographic Place: City, State and Country, as well as geographic coordinates.
Date: Days between August 2nd and September 9th. Also possible (but I'm currently thinking of dubious value) would be a breakdown by time of day. Thoughts?
Person: Egosurf, or traverse the co-depictions.
Cultural Place: Places that aren't necessarily geographic in nature (and have discreet boundaries based on cultural signifigance). Examples are the Tillamook Factory, Glacier and Yellowstone National Parks, Pike Street Market, and the Mall in Washington, DC. So, a picture taken at the Tillamook factory of the sunset would be based on a Geographic Place, not the Cultural Place of the factory. Make sense?
Depicted Things: Anything that you might want to describe the photo as depicting. By glancing over the photos today, I've come up with the following list of things you might want to browse by. If you can think of any others (having not ever seen the photos), post a comment.

Sign [2]

Street_Sign

County, State and Country
National Parks
Tsunami Warnings
Adopt-a-Highway

Sign [4] (Billboards)
Business Signs

Clothing
Nature
Animals
Plants
Transport
Industrial Machinery
Structures

Doolin Flowers
Can you think of any other ways you might want to navigate these photos? I'd like to add in callbacks to my website to provide dynamic searching capabilities (the intersection of any of the above criteria. e.g. "Photos of flowers in Oregon," or "Photos of Adam at Tillamook"). Theoretically this might be possible with client-side javascript, allowing such a DVD to provide dynamic searching without a network connection, but I don't like the idea of javascript having to parse (on the order of) 10 megabytes of RDF/XML.
All thoughts and comments on this project are welcome in the form of email or comments to this post.