January 21st, 2007 1:43 PM
I spent all day Saturday in Boston shooting photos with Matt. I rented a Nikon PC 85mm lens for the weekend and we played around with it all around town. We had more than just the tilt/shift lens, though. Between us, we had:
Nikon D80
Nikon D70
Nikon FM-3
Yashicamat 124
Nikon 18-70mm kit lens
Nikon 18-135mm kit lens
Nikon PC 85mm lens
Nikon 12-24mm lens
There were a few digital pictures that I really liked, and I expect to have some good ones on the rolls of film from the Yashica. I didn't end up doing much with the FM-3, despite it's having the edge over the digitals with the PC 85mm (the FM-3 lacking the smaller DX digital sensor size).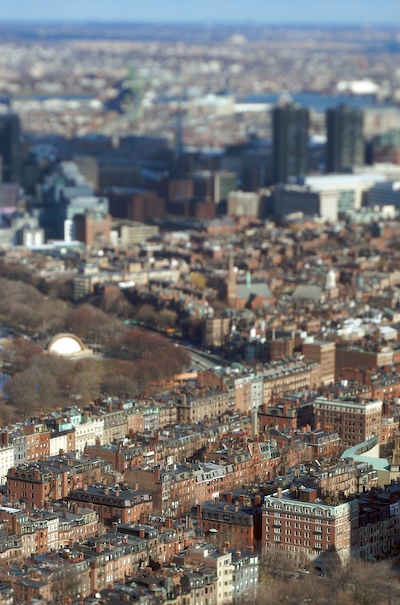 Back Bay and Beacon Hill from Prudential Tower
Unfortunately, I spent a lot of time trying to get to know the PC lens, and didn't end up taking many good pictures. I'll chalk this up as a learning experience, and hope the next time goes better. The biggest issue I found was that, while shooting with digital, the 85mm lens was often just too narrow to get the shots I wanted.
There are some more pictures from the day on my flickr page.