January 9th, 2006 2:07 AM
I spent the weekend with Kat visiting Tim in Albany.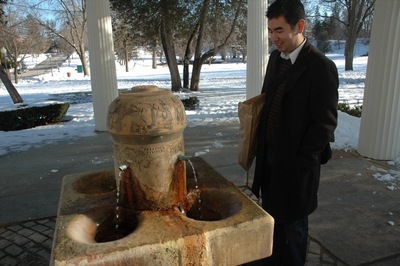 Tim about to drink Saratoga Spring water.
We spent the day in Saratoga where Tim and I drank spring water from a fountain, but Kat didn't want any part of it. Afterward we stopped by an amazing beer store where we dropped $300, saw The Family Stone, went to Mahar's, had dinner at The Albany Pump Station, hit up the Old World Wine Bar, and went home to wrap up the night watching Star Trek 1.