February 2nd, 2004 10:59 AM
Well, I missed this week's Photo Friday ("Emptiness"). Given how backlogged I am, I don't imagine I'll get to it before Friday, which is a shame because I've probably got quite a few shots that would make good Emptiness candidates among the film that needs to be developed.
But to tide you over until I can get a proper album online from the trip, I wanted to post this shot of Turnagain Arm, just south of Anchorage, Alaska. This was the first shot of scenery I took upon getting to Alaska and driving to Girdwood, and it turned out to be the best of the digital shots.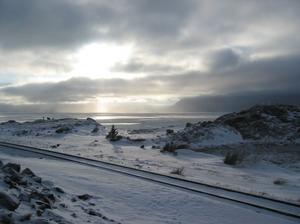 Turnagain Arm