October 2nd, 2003 1:28 AM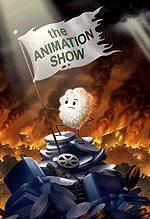 Lauren, Mike, Gary and I went to see Mike Judge and Don Hertzfeldt's The Animation Show at the Laemmle Regent Showcase on La Brea this evening. I don't have words with enough emphasis to describe how great it was. Not since Spike and Mike's Festival of Animation several years ago have I seen anything approaching this level of amazing animation. There were repeat favorites such as Hertzfeldt's Billy's Balloon and Rejected, but the real gems of the show were breathtaking: Mt. Head by Koji Yamamura, Ident by Richard Goleszowski, The Cathedral by Tomek Baginski, La Course a L'abime by Georges Schwizgebel, Vincent by Tim Burton, and Das Rad (The Rocks) by Chris Stenner, Arvid Uibel, and Heidi Wittlinger.
If you have the means, I highly recommend seeing this wonderful collection of shorts before it leaves theatres.
Update: Rejected is available directly from Bitter Films.