January 23rd, 2009 10:42 PM
Dopplr recently generated 2008 personal annual travel reports for its users, and here's mine: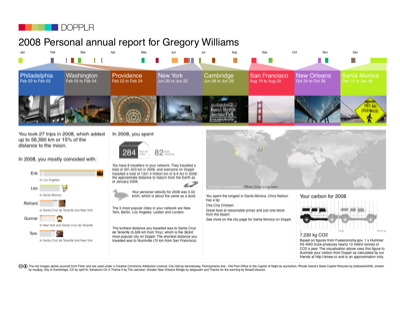 Wonderfully sleek, it summarizes my travels from last year, pulling photos from Flickr for the highlighted cities. I just wish there was some detail for all the cities.
Dopplr says my travel was responsible for 7.23 tonnes of CO2. Not as much as I would have guessed, but still an uncomfortably large number. Hopefully visualizing this data helps me to keep the carbon emissions in mind when considering future travel — something we should all try to reduce.