January 13th, 2008 10:40 PM
As we did last year, Matt and I rented the tilt/shift lens and headed to Boston yesterday for a day of photography. The weather cooperated, and we wandered around MIT, Beacon Hill, the Common, South Station, and the Prudential Center taking photos. I've put up a handful of the photos on Flickr (with some from last year in my Tilt/Shift set), but my two favorites are below: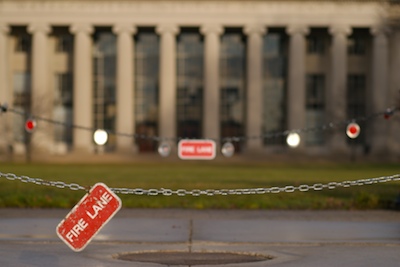 Fire Lane signs at MIT
We picked up Ben and Matty D at South Station in the afternoon and headed to Sunset, our old standby for food and drink whenever in Boston. After the meal (and thoroughly annoying our waitress, I'm sure), we headed south. After dropping Ben and Matty D in Mansfield, Matt and I headed back to his apartment where I pressured him into watching the excellent Patriots game with me.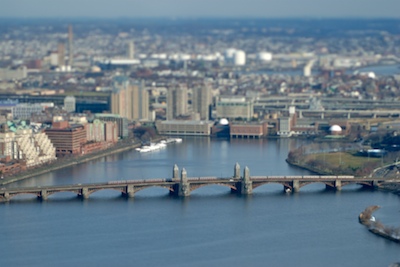 Longfellow Bridge with Red line trains
After a breakfast with Laurel and Stephen this morning, I headed back home, using the trip as a chance to work on my pulse and glide
techniques, taking back roads instead of the Mass Pike. Avoiding the interstate added a few hours onto the trip, but allowed me to stay below 45mph and increase my current tank's average to 58 miles per gallon (having started the trip at below 50mpg resulting from yesterday's carpool south). I think I can keep raising that number, but I'm pretty happy with it given the cold temperatures and the noticeable improvement from before reading up on pulse and glide.